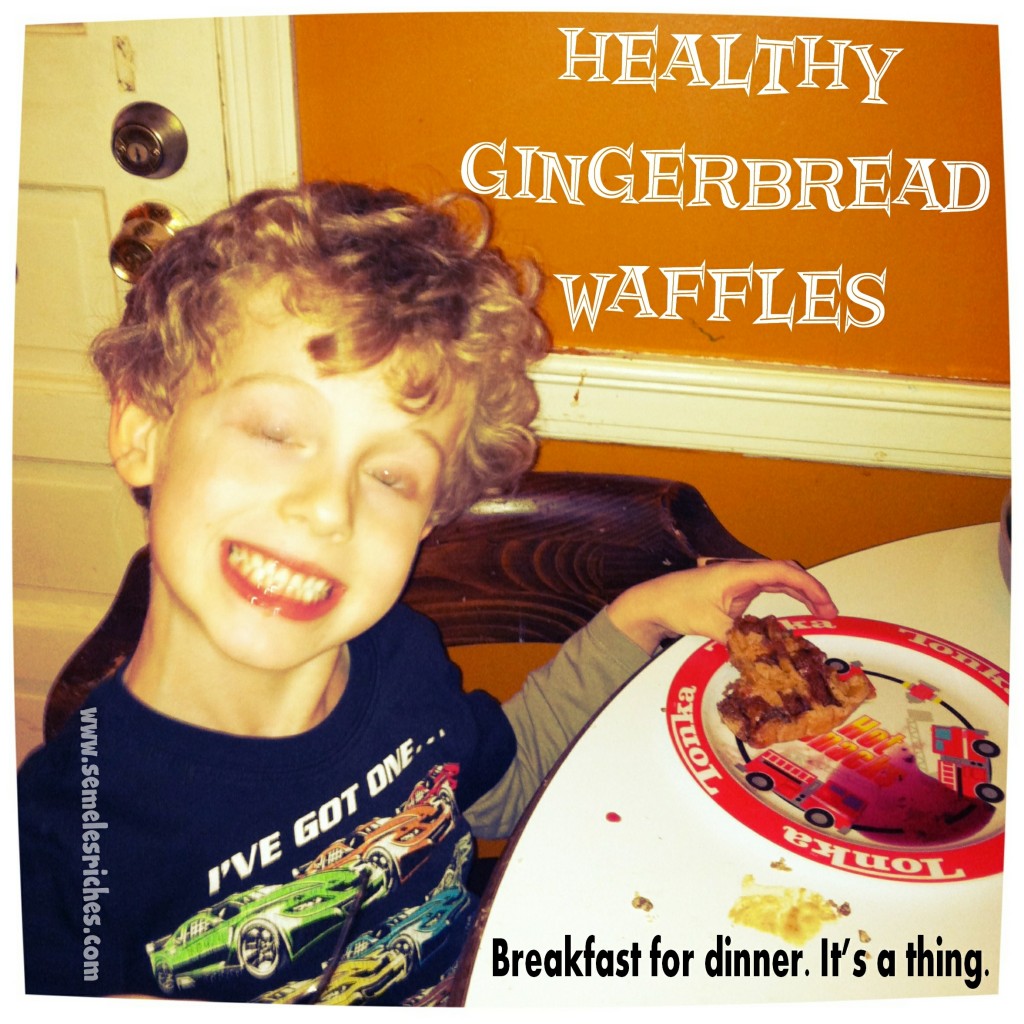 Last night, as a special treat, Ian got to help me make whole wheat waffles for his dinner. (Breakfast for dinner- it's a thing.) I froze the leftovers for his lunches. Apparently, he really likes them, because he tried to steal the cooling leftovers to eat all at once, and then this morning he raided the freezer to make sure I would put some in his lunch today. Keeghan and Michael also each gave them two thumbs up. The dudes had them with store-bought blueberry syrup that I believe came from Trader Joes, but you can definitely make some from fresh fruit. (These obviously are not on my eating plan, so I had one bite to make sure the recipe was good and stopped.)
This little foray into breakfast for dinner was partly inspired by the fact that I love that awesome kid and cooking with him is getting really fun, partly by a search for a little more variety to pack in his lunchbox, and partly by my embarrassing discovery that, among other excesses and tomfoolery, we had three jars of open molasses in the pantry. Molasses, in addition to being the sweet, delicious star of gingerbread goodies, is also really high in iron and lower on the glycemic index than sugar, so I Googled for recipes that used molasses and, after adjusting for what ingredients I had on hand, came up with this.
Whole Wheat Gingerbread Waffles
I can't tell you exactly how many this recipe makes, because 1- it depends on your waffle maker, and 2- the dudes were eating them so fast I didn't really get a chance to count. But it's at least a dozen square waffles, and probably 18.
1/4 cup plus 1/2 Tablespoon canola oil
5 large eggs
2 cups skim milk
1/2 Tablespoon vanilla extract
1 1/2 Tablespoons molasses
2 1/4 cups white whole wheat flour (I use King Arthur)
2 Tablespoons baking powder
1 teaspoon ground cinnamon
1/2 teaspoon ground nutmeg
1/2 teaspoon ground ginger
1 1/2 Tablespoon sugar
I turned on the waffle iron to preheat, and then, in the biggest mixing bowl I have, we combined the wet ingredients. (Spray the measuring spoon with cooking spray before you measure the molasses.) I let Ian prick each egg yolk with a fork and then taught him how to whisk the ingredients together. While he did that (greatly amused at how the molasses sank to the bottom and then stuck to his fork before finally combining with the other ingredients- a little side lesson on density going on there) I measured the dry ingredients into a smaller mixing bowl and combined them well. Ian slowly added the dry ingredients to the wet while I blended with a hand mixer. (If it looks too thick when you are done, add some more milk, 1 Tablespoon at a time, until it looks right for waffles.)
I dropped the batter onto the waffle iron (use the appropriate quantity for your iron) and cooked each one until it was golden brown- 2:30 was about perfect, but expect a little trial and error. These waffles were light, fluffy, and released beautifully. To freeze leftovers, just cool them completely on a wire rack and then package them for the freezer. I used sandwich bags, so they could go off to school with my dude, but you could of course put them between layers of waxed paper in a freezer container.