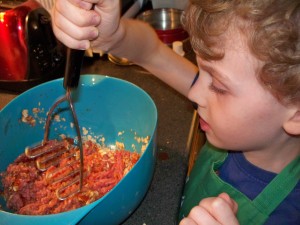 Ian got a "red" (that's a poor behavior report) at school today (near as I can tell for a terminal case of "getting on his teacher's last nerve") which meant no TV or computer, so he had time to make this lovely meatloaf for our dinner. Apparently he approves of everything but the name, because he keeps referring to it as "roast beast."
Roast Beast
1 pound ground "meatloaf mix"
1/2 Tablespoon Worcester seasoning (not the sauce, they sell this next to the pepper.)
3 Tablespoons dried onion flakes
1 egg, lightly beaten
8 ounces no-sugar added tomato sauce
1/2 cup old fashioned oats
1 Tablespoon dijon style mustard
Combine all ingredients in a large mixing bowl and mix with a potato masher. Be sure to describe each step of the process using as many construction metaphors as you can think of. (Apparently, tomato sauce looks like concrete when you pour it.)
Spray a loaf pan with cooking spray and pat mixture down evenly. Using a silicone spatula, sign your name on your work.
Bake at 375 for 1 hour.
Enjoy together as a family.