So, you remember when the Werewolf Fetus turned me, right? Well my love affair with red meat hasn't abated and neither has his. (Yeah, okay, even the 8 year vegetarian in me thinks watching him wave a piece of steak in the air while yelling "MEAT!" is pretty dang funny.) Apparently some of us were just born to love meat and there isn't much more to say. Anyway, we all know good steak is hard on the budget, but not when you know the secret to turning the cheap cuts into the best steak you've ever eaten.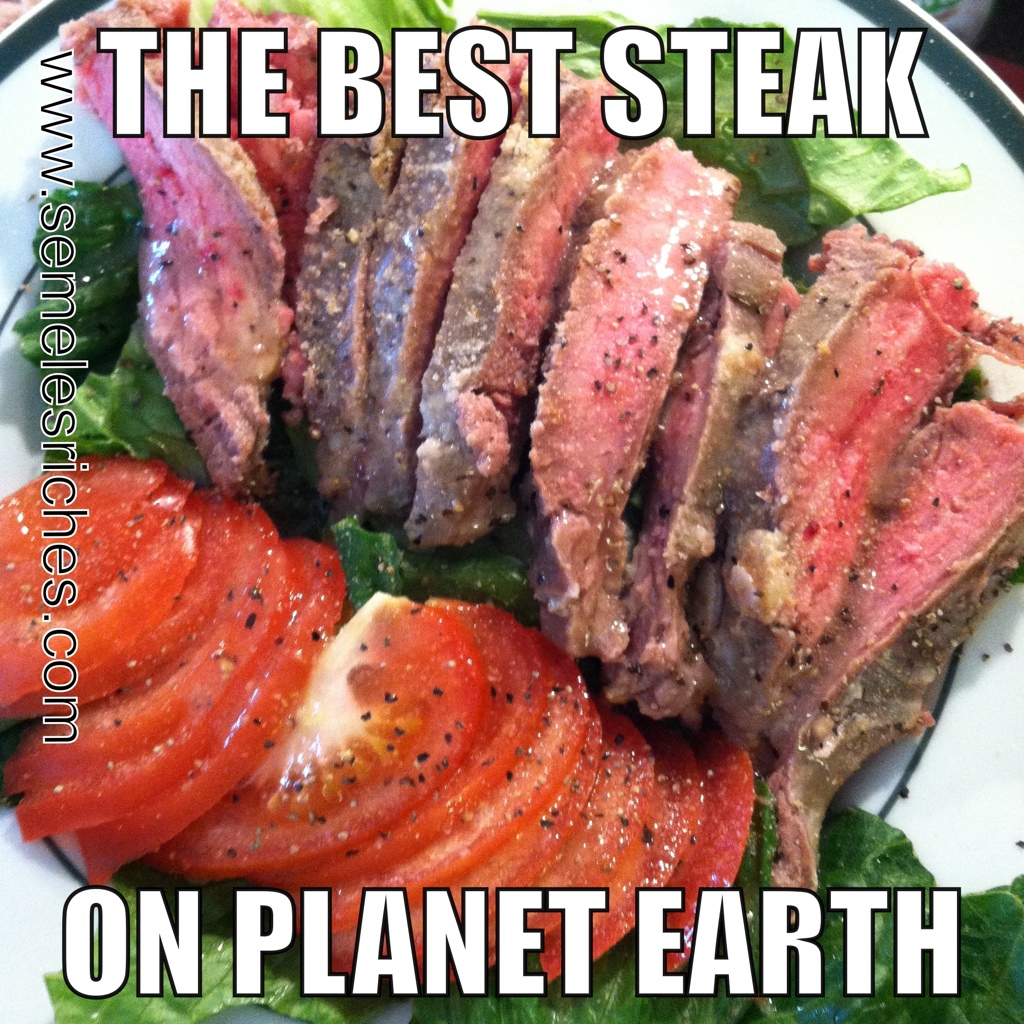 The day I found this recipe, I got very excited. You need to plan ahead a little more than doing them the "ordinary" way, but lean, cheap flank steak turns into a meat lover's dream with this method. It's so incredibly flavorful that eating it cold as a salad is still amazing. It is tender. It is juicy. It is out of this world. I made the salad with 7 ounces of steak, half a vine ripened tomato, and a bed of romaine lettuce. Add two tablespoons of your favorite dressing and you have the best lunch ever.
So here's a quick recap of the steak recipe:
Approximately 1.75 lbs of flank steak
2 teaspoons of kosher salt (can't use fine grained table salt for this)
Garlic powder
Your favorite steak seasoning blend or rub (I like Trader Joe's Everyday Seasoning or a little fresh ginger grated over top in addition to garlic powder and black pepper.)
Salt each side of the raw steak with 1 teaspoon of the salt. Sprinkle liberally with garlic powder. Let it stand one hour per inch of thickness of the steak. (In other words, a 1 1/2 inch thick steak would stand 90 minutes.) There seems to be some flexibility in your time frame, but I haven't pushed it too far either way.
Rinse well. I mean, REALLY REALLY WELL. I thought I had rinsed well the first time and… let's just say it's a good thing I like salt. Then pat dry with a flour sack or other towel that doesn't have a lot of lint.
Broil or grill to your preferred doneness. We've run the gamut and find that the steak is at its juiciest and most tender when prepared medium or medium rare, but, to each their own.
Enjoy half for dinner. Save half so you can enjoy the world's best lunch tomorrow. Slice into strips when cool.